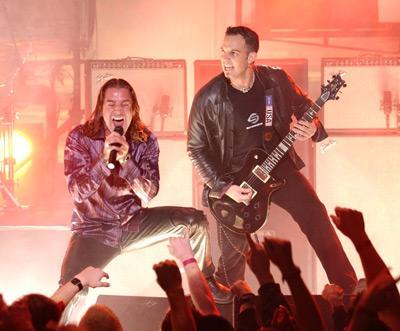 From Tisha Emberton
I first saw Creed during their Human Clay tour 2000 at the Municipal Auditorium in Nashville, TN. With Scott Stapp doing his arms out Jesus expression, Mark Tremonti, foot upon the amp while showing power with riddling guitar riffs, Scott Phillips shows the audience flying drumsticks the "flip" way, Brian Marshall heavy on the bass. I rate this as a very passionate, intense, orgasmic concert experience.
Creed has come along way since that performance. I moved to Charlotte, NC shortly after that performance in Nashville. After finishing college in 2002, I was scheduled to move back in July that year. That was until I discovered Creed was performing in Charlotte, NC on July 13 at the Verizon Wireless Ampitheatre. Wow! I was so excited that I stayed in Charlotte for another month for this very show.
When I first arrived, I viewed thousands of Creed fans uniting for this show. The stage was a much different set up from their last performance.Their stage--a Roman Cathedral back drop, a black metal fence riddles the Creed symbol within its design with flaming torches atop its edges. The fence parallels behind the drums and meets the ground on each side. Pyro and flames lit up the stage. I felt the embrace of something very creative, the sweat and tears of a band whose put their heart and soul out there, for who, the fans. I'm living proof of that. Creed has more substance than any band I believe. Their songs are about something deeper, the will to go on along with the struggles of life. I relate to their lyrics. Creed has touched me with words of inspiration, and for that, I've created this site in their honor.
I moved back to Tennessee a couple of weeks after the Charlotte, NC show. Being the Creed fan I am, I went to see Creed again on August 17th at the Am South Ampitheatre in Nashville, TN. Only this time, Scott Stapp wore his what I believe to be Elvis sunglasses. I figure that he did this in honor of Elvis being that this was Elvis week in Memphis.
I've read that Scott Stapp was very limited to music growing up, but his Mom was a big Elvis fan, and this was the only Rock music allowed. This explains the reason Scott ran away when he was 17. Scott has written poetry/song lyrics while growing up. Most of his influences were his life as a minister's son and the anger that swelled during his rebellious youth. Scott Stapp attended a private school where he met Mark Tremonti. They went different paths after this only to reunite at Florida State University. This is the birth ground of Creed.
Scott Stapp with son, Jagger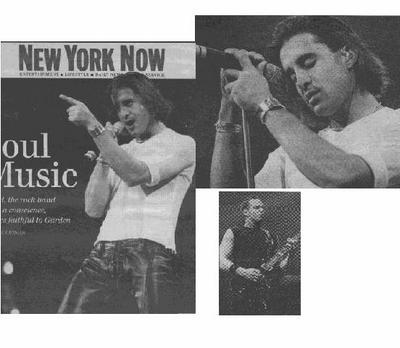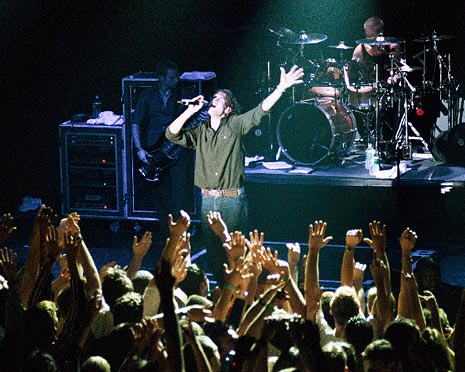 From Kelley, a Creed fan
Amsouth, Nashville TN 8-17-2002
3:30 PM we are on our way. We went to The Holiday INN to meet up with some 12Stones and Creed board friends. We chatted for a while. We got to the amphitheatre at around 5 PM. We sat in line in the car for a little while, and then at 5:45 we were let in the gates to park the car, then the walk to get in the line, I was already nervous and excited. We were pretty close to the front of the line so after they did open we got in quick. The first thing we did was wait at the 107.5 booth, they were having a drawing, and the winner got to go backstage to meet Scott. Well it was not me, I was sad, but only for a moment. We walked around looking at everything, Ran into some other board members. It was really nice to meet all them. I had so many people compliment me on my tattoo; they would say hey is that the tattoo Scott has on his arm? I would say yes, I was surprised that any one would know that. I did not see any other Creed related tattoos. I did see a lot of Creed shirts. We went down to find our seats, really close 19th row, It was great. We sat just in time, 12Stones was just about to perform. By the time Creed came on the place was packed, I was so glad to see so many people turn out for this. We sat but not for long as soon as the lights went down we were up and yelling and screaming, chanting CREED, CREED, CREED! Then finally they came on stage, I have not seem them live since 2000 it took my breath away to see Scott, he looked so good, brown leather pants and a white button up shirt with no sleeves My heart started beating so fast, finally the day I had been waiting for was here. Scott started out with Bullets, I did not keep a set list but they were in rare form and all pumped up!!! After the first few songs Scott said Your paper said I was trying to be the savior of Rock and Roll, I never said that, You (pointing at the crowd) are the saviors of Rock I thought to myself it he read that then he read what I had written to the paper, they published it and I was the first one listed, ok so he read my article, I wonder what he thought about what I said?? My article praised Creed!! It gave me chills to think that he may have read what I wrote. The audience was going wild during the whole show, you could hear everyone singing along with him, I know we were. They played Faceless Man, Scott said that they do not usually play it but had decided to, I was glad that song has a special meaning to me; it was almost like Scott knew it and sang it for me. Scott played the guitar I have never seen him do that I was thrilled! Toward the end of the concert Scott thanked us all and said that we were the best audience yetSwear to God That really got everyone going. The last song they played was My Sacrifice, not your normal encore, they performed 3 songs and they were just as pumped as they were when the concert started. I do have to say I have never seem them perform better that they did this time; Scotts voice was strong and perfect! He was perfect, they all were. It all was over to quick, but they had sung for 2 hours. I did not take my eyes off of them the whole time. It was so good to see them again. It was worth every penny and I can not wait until the next concert. I did not get to meet Scott but we were close to the stage, and that was fine with me. I did get to meet 12Stones that has really blown me away. This is something I will cherish in my heart forever and I will never forget that night.