Read the new interview with Mark Tremonti on Guitar.com
You're listening to Alter Bridge's song, "Find The Real"!
Track Listing:

1. Find The Real
2. One Day Remains
3. Open Your Eyes
4. Burn It Down
5. Metalingus
6. Broken Wings
7. In Loving Memory
8. Down To My Last
9. Watch Your Words
10. Shed My Skin
11. The End Is Here
My Alter Bridge slideshow 2004 Photos by Tisha Emberton, The Roxy, Atlanta, GA
Click here for Alter Bridge lyrics
Alter Bridge will be headlining this Spring's Jagermeister Music Tour with special guests Future Leaders of the World and Submersed. The tour kicks off on March 29th in New York City. See below for all the tour dates.

Alter Bridge Tour Dates::

Tue/Mar-29 New York City, NY Irving Plaza

Fri/Apr-01 Hampton Beach, NH Hampton Beach Casino

Sat/Apr-02 Albany, NY Northern Lights

Sun/Apr-03 Buffalo, NY Sphere Entertainment Complex

Tue/Apr-05 Detroit, MI Clutch Cargos

Thu/Apr-07 Lincoln, NE Blackjack Hall @ Pershing Auditorium

Fri/Apr-08 Kansas City, MO Beaumont Club

Sun/Apr-10 Denver, CO Fillmore Auditorium

Tue/Apr-12 Anaheim, CA House of Blues

Wed/Apr-13 Phoenix, AZ Venue of Scottsdale

Fri/Apr-15 McAllen, TX La Villa Reale

Sat/Apr-16 San Antonio, TX Fiesta Oyster Bake-St. Mary's Univ

Sun/Apr-17 Lafayette, LA Cajundome Convention Center

Tue/Apr-19 Baton Rouge, LA Varsity Theatre

Wed/Apr-20 Jackson, MS Headliners

Thu/Apr-21 Albany, GA State Theatre

Sat/Apr-23 Houston, TX-KTBZ Cynthia Woods

Sun/Apr-24 Dallas, TX-Edgefest Smirnoff Amphitheatre

Tue/Apr-26 Greenville, SC Handlebar

Wed/Apr-27 Atlanta, GA Roxy

Fri/Apr-29 Biloxi, MS Coast Coliseum Convention Center

Sat/Apr-30 Tampa, FL-WXTB Ford Amphitheatre

Sun/May-01 West Palm Beach, FL Sunfest

Tue/May-03 Chattanooga, TN Pavillion

Wed/May-04 Little Rock, AR Clear Channel Metroplex

Fri/May-06 Pensacola, FL Hadji Shriners Hall

Sat/May-07 Orlando, FL Lee Vista Fairgrounds

Sun/May-08 Jacksonville, FL Jacksonville Fairgrounds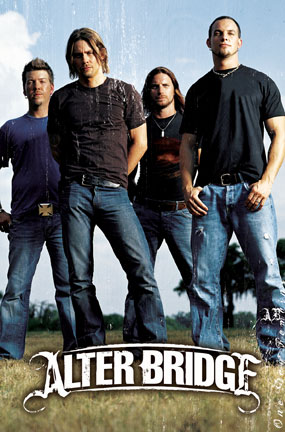 Creed's lead guitarist, Mark Tremonti, drummer Scott Phillips, former bass player Brian Marshall and Myles Kennedy are the spices in the new band, Alter Bridge.

Alter Bridge's album, One Day Remains hit stores on August 10, 2004. I must say Mark Tremonti has kicked up the edge on this album. You'll be very pleased! Metalingus and Watch Your Words are very heavy. The album also features a ballad called "In Loving Memory", which is in honor of Mark Tremonti's mother whose spirit is now with heavenly angels.

Click here to visit Alter Bridge's official website! Be sure to join their mailing list!