When I met Mark Tremonti at the Coca-Cola Roxy Theatre in Atlanta, Georgia on October 16, 2004, I was really impressed with his personality. It was an honor to meet my absolute favorite guitar player. I really liked his attitude. Mark seemed very laid back, cool and friendly. I loved how all the guys of Alter Bridge stayed after the show to hang out with a few fans, sign autographs and have photos taken.
Tisha Emberton Photo Copyrighted 2004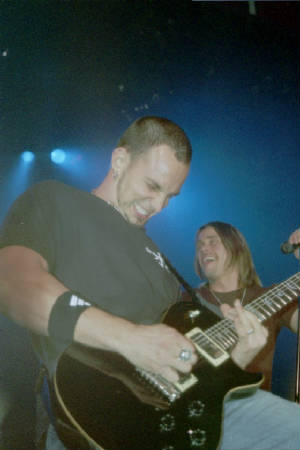 Mark Tremonti shreds powerful riffs on his guitar at the Roxy, Atlanta, Ga.
Facts about Mark Tremonti:
Full name- Mark Thomas Tremonti
Status-lead guitarist for Alter Bridge/former lead guitarist for Creed
Born-April 18, 1974
Height-6'1 1/2
Grew up in Detroit, Michigan.
Influences: Metallica, Anthrax, Slayer, Venom, Celtic Frost, Rollins-era Black Flag
Started playing the guitar when he was 11-years-old.
During first Creed photo shoot, Mark wore his Chili's shirt. However, he didn't do it intentionally, just worked out that way.
Mark is very competitive at ping-pong. He collects pin-ball machines. Can anyone tell Mark is a kid at heart?
Boxers or briefs: Mark wears boxers!
Favorite food on the road: Grilled chicken. With a side order of corn.
If Mark had a super human strength, he would like the ability to stop time.
His brother, Michael, nicknamed him "Brutus"
Mark's first guitar was an imitation Les Paul that cost only $25.
When Mark was 16 his family moved to Florida where he began attending Lake Highland Preparatory school. It was at this time when Mark met future bandmate Scott Stapp. During his freshman year at Lake Highland, Mark started his first band, 'Wit's End'. After graduation, Mark went on to attend Clemson University where he majored in finance. After a year, Mark made his way back to Florida State and was reunited with Stapp. Scott talked about forming a band, so they started holding auditions at a friend's house. Drummer Scott Phillips and bassist Brian Marshall were eventually picked. The band was originally named 'Naked Toddler' which was the headline of a newspaper clipping Mark carried around in his wallet. After realizing how bad of a name 'Naked Toddler' was, they changed it to 'Creed'. In 1997 Creed released their debut album, 'My Own Prison', which has since sold over six million copies to date. In 2000, following the release of their 2nd album Human Clay, the band released their VH1 "Behind The Music (1997)" special, which shows you how incredibly far Mark and the other members of Creed have come.
From left to right, Eric Friedman, Victoria & Mark Tremonti
When I met Mark Tremonti in Atlanta, he gave me news that his wife, Victoria is pregnant, and is due in May of 2005. Mark said if the baby is a boy, he wants to name him Austin. I could really tell Mark wants a baby boy. I could see the luster in his eyes talking about it. Congrats Mark and Victoria!