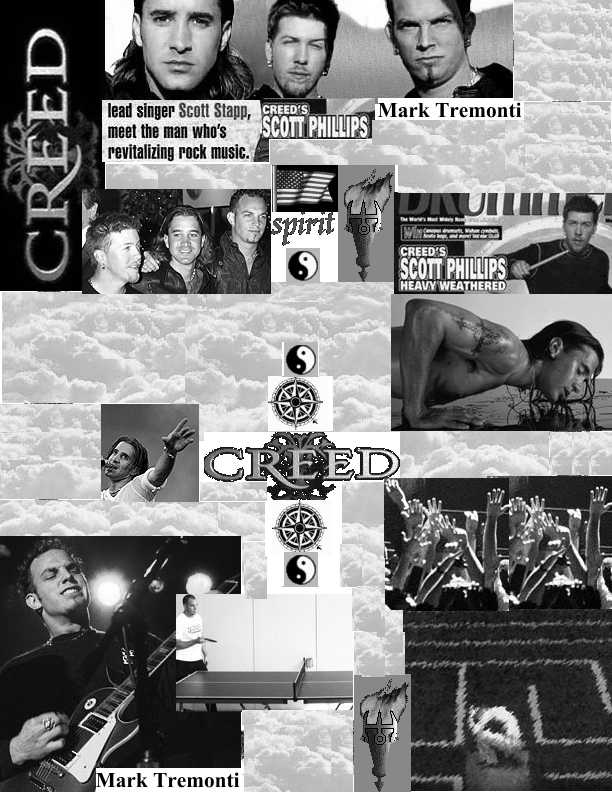 Creed is vocalist Scott Stapp, guitarist Mark Tremonti, bass player Brian Marshall(former), and drummer Scott Phillips. In the early 1990's, while Scott was studying to be a lawyer at Florida State University, he met up with Mark Tremonti and later dropped out of school to pursue his musical interests. After meeting with Brian Marshall and Scott Phillips, Mark and Scott teamed up with them to become "Naked Toddler". After a few years of auditioning and practicing, "Creed" was formed after suggestions by Brian Marshall.
After paying their dues playing long sets of cover songs in Tallahassee bars, Creed began working in their own tunes...but still, they remained close to home. "We never toured," says Tremonti, almost with pride. "We never did the Florida club circuit like all these other bands; we just played once a month at this bar called Floyd's Music Store."
Creed went on to record their debut album "My Own Prison" in a studio in Tallahasee. The record cost $6,000 because they signed under their own record label, Blue Collar Records(later remastered after Creed signed with Wind-Up records). "My Own Prison" was released in August 1997. The album became 6x platinum. including 1998 Rock Artist of the Year award and the #1 selling hard rock album of 1998. They became the first band in history to have four #1 rock radio singles like "What's this Life for" and "My Own Prison" and Creed ended up selling 6 million copies in all. "I knew we had the talent to get a record deal and I knew we had good enough songs to get on the radio, but I never had the expectations of reaching this many people" says Scott Stapp on "My Own Prison".

Shortly after, Creed started recording in a studio they constructed outside Tallahasee and made their sophomore album "Human Clay" and released it September 1999 after signing with Wind-Up records. "Human Clay" became #1 on the Billboard charts, the 1st 3 singles (Higher, What If, With Arms Wide Open) achieved #1 status setting a record with a total of 7 consecutive #1 rock radio singles. "Human Clay" also broke "Mainstreams" rock airplay records for most consecutive #1 weeks (Creed got 18 weeks at #1). "Human Clay" became 10x platinum and sold more than 10 million copies. Brian Marshall left, leaving Mark to handle bass and guitars to begin their next album.

"Weathered" was released in November 2001. It gave Creed many awards and achievements November 2001 and quickly became their most influential album of their career. "Weathered debuted at #1 and Creed sold more copies in the 1st week than any other rock album released in 2001 and tied the record for the longest run at #1 following a #1 sophomore album. Creed got the Rock Artist of the Year award for the 3rd time in a row and got a 2001 Grammy for their music and composition towards the "Arms Wide Open Foundation", a charity founded by Creed. Creed also got an American Music award for "Favorite Alternative Artist".

.